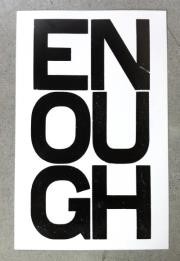 I am excited about the potential of In Protest, an event organized in tandem by the Kadist Art Foundation and the Berkeley Art Museum/Pacific Film Archive, to be held Wednesday, May 9th at 7pm.
Artists have been asked to design posters with a specific or abstract political message to be given away at this one night event. The list of artists includes many whom I instantly associate with politically charged practices such as Rigo 23, Martha Rosler, and Natasha Wheat and many whose posters may help recast their interests in a more political light.
The artists are Zarouhie Abdalian, John Baldessari, Amy Balkin, Dodie Bellamy, Charlie Dubbe, Amy Franceschini, Doug Hall, Kevin Killian, Paul Kos, Tony Labat, Shaun O'Dell, Rigo 23, Piero Golia, Jordan Kantor, Martha Rosler, Allan Sekula, Mungo Thomson and Natasha Wheat.
Questions of art praxes' political potentials and limitations are constantly swirling, all the more so in these highly charged times of active protest movements. The world has yet to come to terms with the revolutions recently transpired or those still afoot. And the future is less than settled in nations whose 'completed' revolts in the Arab Spring have left them in a terrible and dangerous state of flux. A military government is still in control of Egypt and in advance of elections, vying political factions are falling victim to massacres such as the one in Cairo on May 2nd.  Closer to home (and much tamer despite the press' over emphasis on its outlying criminal element) we have our local Occupy, revitalized in its May Day general strike. In each of these protests and in the more everyday ones (usually in the grand tradition of labor struggles, but also against abortion and pro or against various political personalities and parties) the arts play a major role, both as means of message production (signs, banners, et al.) and as a foothold for giving the myriad people some cohesiveness (ex. the various strains of music performed and DJed).
During a March 31st talk at the Kadist curator Nato Thompson, whose excellent exhibition Living as Form is about to finish its satellite run in SF, discussed various ways in which art could engage with a wider audience, purpose and potential, noting (I'm paraphrasing) the worst thing we could do is commission a bunch of posters. But is such a curatorial proposal so untenable? In the introduction to Dorathea von Hantlemann's excellent How to Do Things With Art (2010), she describes her theme as, "How does art become politically or socially significant and what preconditions must be fulfilled in order to enable artworks to attain such significance?"
In Protest will raise these questions anew, confronting Thompson's challenge and interrogating Hantlemann's question. Each artist will address both the specific audience in attendance and the vitality of their medium (the poster and art as a whole) in the context of the museum and the wider political conversation. And we,  the viewers,  will walk away with works of art.