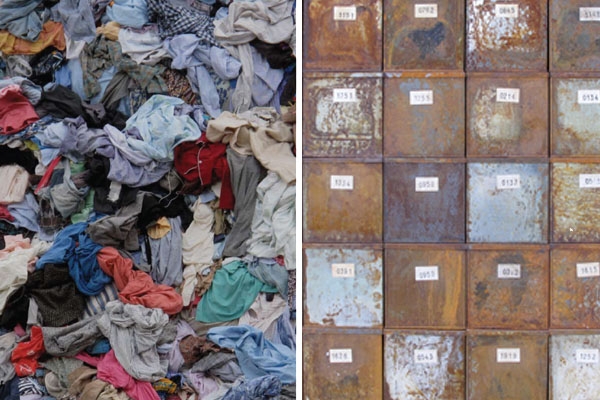 (courtesy: Park Avenue Armory)
Christian Boltanski's No Man's Land is a mixed bag. Something more could have been said and accomplished given the space and resources allotted, albeit there are some powerful moments.
Walking into the armory is always a welcome visceral charge. This feeling carried over as I approached Boltanski's wall of rusted biscuit tins. If you are familiar with his work, you know life and death is his motif. I was prepared for heavy-handed death metaphors, yet succumbed to this first sculpture and let go of my pre-conceived baggage. The placement in this engulfing hall was superb. Through repetition, scale, and the aesthetics of rust, Boltankski delivers this "best in show."
As you pick which side of the tins to walk around, you enter the remainder of the 55,000 square-foot Drill Hall. Thousands of pieces of used clothing are orderly placed on the ground in numerous square formations. This is where the art goes flat. Rather than lost souls the artist is attempting to reference, it feels more like an outdated thrift store. The systematic placement of the clothes stole any organic relationship to the human body. These clothes do not act as substitutes for people and feel like they never had anyone present. Nobody died; they simply traded in their harvest gold and avocado green wardrobe at Beacon's Closet and went to American Apparel.
The epicenter of this installation is the 5-story crane going up and down over a 40-foot high mountain of clothes. The operator from the construction claw company estimates he hoists and drops clumps of clothes 800 – 900 times a day. This is a beautiful meditation on life. Boltanski compares the claw to "chance" or life "as a game of dice." While it seems more poetic than direct like the artist claims, the fluttering of clothes is hypnotic.
Another element, not hypnotic enough is the individual heartbeats playing through speakers throughout the floor. This should have been amped up a few notches. Although Christian Boltanski is more interested in genocide than vibrant colors and childish joy. It's hard not to think of recent clothing sculptures by Guerra de la Paz or the claw arcade game while in No Man's Land. You have until Sunday to see for yourself.
No Man's Land is on view at Park Avenue Armory until June 13, 2010.