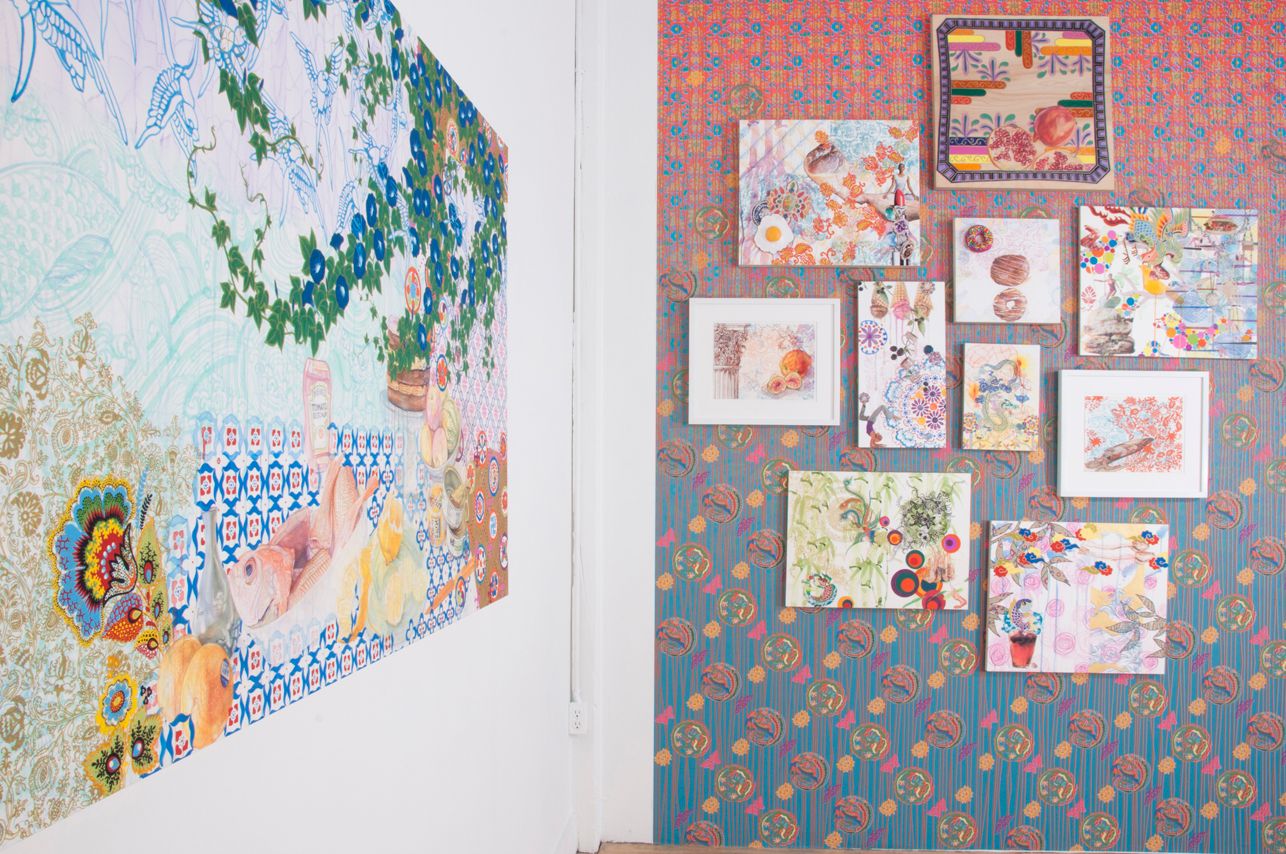 Kira Nam Greene's first solo exhibition at Accola Griefen gallery consists of mixed media paintings, drawings, and collages that combine the seemingly disparate elements of food and patterning to create hyper-real domestic spaces. Working with a wide range of materials, including watercolor, gouache, colored pencil, linocut, modeling clay, stencil, rhinestones, and ink, Greene's artworks are as much influenced by 17th century Dutch Vanitas painting as by the Pattern and Decoration movement of the 1970s. Greene's mastery of rendering techniques and utilization of slippery shifts in perspective come together to create scenes that are at once familiar and unsettling, beautiful and grotesque.
In the paintings Happiness is Just a Bowl of Cherries, Royal Jello, and Kimchi Joy, the food items named in the titles of each piece are rendered in exquisite, exacting detail, each referencing the corporeality of the body. The foreground patterning recedes and advances around the food-objects, and in the case of Cherries, is reflected in the bowl the cherries are sitting in, adding an exquisite weight to the rendering of the ceramic. In Royal Jello, the gelatin mold has become an organ, pulsating as the foreground patterning refracts through its gelatinous blob. The kimchi in Kimchi is depicted so fleshily, that it is almost repulsive – it looks like it might be made of skin.
Greene's largest piece in the exhibition, Peanut Butter, Saba & Ketchup, mixes a huge range of patterning – an Ikea tablecloth, Chinese silk brocade, Japanese Noh prints, and Persian and Italian tiles, to name a few – with a hodgepodge of food from different cultures. While the ketchup, cans of tuna, and Skippy peanut butter are clearly from the present day, Green also includes a pair of hanging pheasants, a bowl of fish heads, and peeled lemons – overt references to vanitas paintings, in particular "Still Life with Lemons" by Pieter Claesz. The combination of Western and Eastern sources in terms of both foodstuffs and patterning, combined with a refusal of straight perspective, makes for a sophisticated meditation on the nature of consumption. The references to vanitas paintings combined with the corporeal quality of the renderings clearly point to questions about our own mortality.
Kira Nam Greene
"Blue Plate Special"
Accola Griefen Gallery
547 West 27th st.  #634
April 11 – May 18, 2013