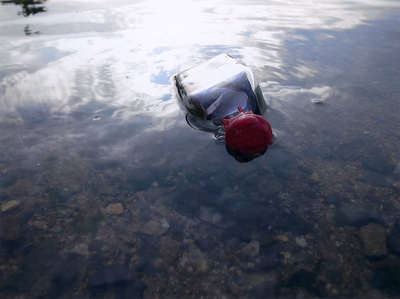 In a city made quiet due to power outages south of the thirties, it was an interesting choice to have sought out films exploring noise.  "A Cinema of Industrial Noise", a series of four films shown at MOMA on Halloween included the twelve minute, 1929 film, NYC Street Scenes and Noises, which slowed time down so appreciably, it seemed twice as long.
Capturing a time nearly two decades after Alfred Stieglitz's moody, genre photographs of the city before ubiquitous skyscrapers, satellites and metered parking, the short film included long gone street scenes where trolleys mingled with horse-drawn carts and the masculine activities of the strangely named Noise Abatement Commission.
Cruising the streets of New York's Times Square and Radio Row, now part of the World Trade Center site, by van, men in hat and coat took concerns about auditory health, which we continue to abuse, to the streets, filming men, like themselves in hat and coat, while coaxing them to listen and learn about the deleterious effects of the noise pollution surrounding them.
Using the warbling test tone as a tool of measurement, the commission alerted their audiences that street noise was depriving them of 42% of their hearing.  Fast forward 80 or so years from now; films will no doubt document the abuse of our ears, albeit a self-induced variety.  It will hardly matter that we did it fashionably.
Symphonie Mécanique, a thirteen minute, 1955 film by Jean Mitry, described as  "an abstract ballet of industrial images and sounds", accompanied by Pierre Boulez's1950's "musique-concrète arrangements " was a kaleidoscope of black and white triptychs with a predictable, unimaginative sound-track to 21st century ears, but one representative of the composer's "motive behind all his work", according to writer Calvin Tomkins–"the search for anonymity".
Crisp footage of mass production as it approached the final stages–newspapers, thread, bottles, cigarettes, madeleines—seconds before being folded, wrapped, corked, wrapped or molded celebrated the efficiencies of  the modern industrial world with none of the social commentary found in Chaplin's Modern Times released twenty years earlier.
Leave it to Dr. Seuss to find humanism in the machinery of modernity.  Gerald McBoing Boing, an Academy-Award winning film directed by Robert Cannon, based on a Seuss story of the same name, tracks the rise to celebrity of a little boy who speaks no words–rather, he speaks in sound affects.  In seven short minutes, retro graphics and illustrations capture the 1950's stylistically.  As to the materialism of the era, "Now Gerald is rich, he has friends, he's well fed,  'cause he doesn't speak words, he goes boing boing instead!"
As collage, the film series charms until Punking Out, the 1978 film directed by Maggi Carson, Juliusz Kossakowski and Fredric A. Shore, disturbingly defends the exposure to potential NIHL (noise-induced hearing loss) at CBGB (Country, BlueGrass, and Blues) with Hilly Kristal's defense, "Violence starts when people can communicate".
photo credit:  Christian Jankowski "Review/Waterproof Test" East River NY 2012 from Discourse News, Friedrich Petzel Gallery, New York, New York