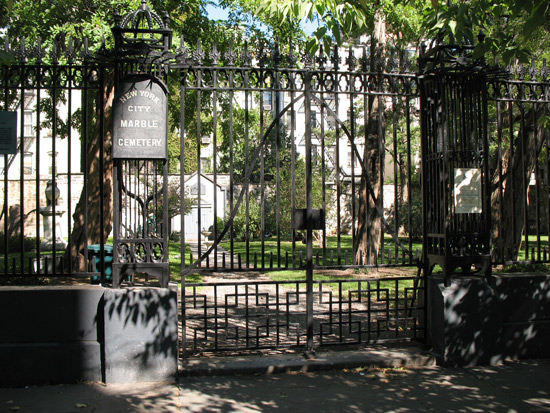 Picture yourself at a cemetery, picnicking on a warm, bright Sunday–not the typical image of cemeteries in October, right? (Or any month, for that matter.) Yet that's how urban residents during the 19th century spent their weekends before the City Beautiful movement kicked in and established open spaces for citygoers to enjoy. Up to that point, urbanites used the cleared land of cemeteries for activities we now associate with public parks.
That history informed Rebecca Blocksome's "Socializing the Cemetery," an interactive art piece featured in the Conflux Festival that took place this past weekend. For the work, Blocksome invited the public to the New York City Marble Cemetery on E. 2nd Street between 1st and 2nd Avenues, where participants were asked to create a map of a randomly assigned section of the cemetery and encouraged to explain the symbols and names they used to mark their map. (The act mimics at least one service cemeteries provide: to offer a physical space where meaning and memory reside.)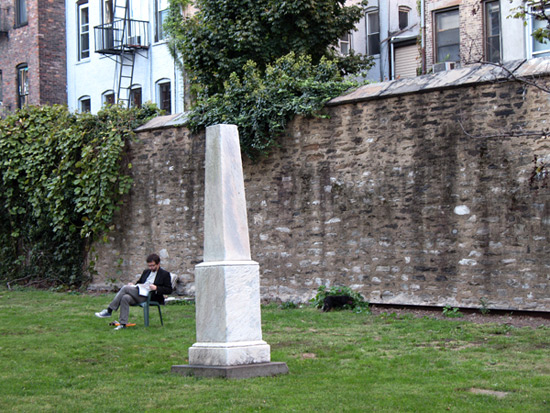 Unfortunately, 10 a.m. on a Sunday is early for New Yorkers, and the piece never occurred. This is tragic, because of the poignant timing of Blocksome's work: the cemetery is only open to the public three times a year. That festival-goers could have mapped and thus charted territory usually inaccessible to the general public raises questions about who owns memory, particularly when the cemetery, which serves as a repository for the dead and thus the past, was designated a local landmark in 1966. As land marked or recognized by the public as significant to our shared past, what does it mean that the cemetery's gates are closed more often than not? Does it shutter history from those who would seek to claim it? And as the world becomes more populous, and as cities continue to struggle to preserve open space (for the living or the dead–try making that choice), where will history repose?
Such questions make abstract the real dilemmas facing cemeteries today: who maintains the grounds, let alone pays for the upkeep? Where should we locate cemeteries? Will they become relics themselves as more and more of us choose cremation? Grieving and burial practices continue to evolve, and fewer and fewer of us visit graveyards or, more to the point, no longer live in the cities where our friends and families are or will be buried. Despite its non-happening, Blocksome's "Socializing the Cemetery" offers a meaningful introduction to such topics in absentia, as well as an exciting preview of what we might expect from this artist as she incorporates interactivity into her art, which has focused in the past on the book as a physical and conceptual form.
Photos: courtesy of the artist