Photo: Trois © Pat Beary
The Soho Photo Members' second annual Small Works Exhibition, which opened on February 9th at the Soho Photo Gallery in Tribeca, captured the power of "small" as part of a creative competition showcasing photographic images no larger than six by six inches.  Baby boomers will remember how Volkswagen capitalized on the concept with their 1959 "Think Small" ad campaign, the highest ranked in the 20th century. Small is as disarming, sexy, and fun in cars as it is in photographs as demonstrated in this beguiling show which provides a fashionable reprieve from the ubiquity of supersized images. Veteran Karen Marks, Exhibitions Director of the Howard Greenberg Gallery in New York, acted as juror.
Papier, the series by first place winner Pat Beary, was prominently featured at the entrance of the non-profit cooperative gallery.  Un, Deux, Trois, Quatre, and Cinq form studies of hand-made paper found by the photographer in a Parisian boutique.  Exemplified by the topography shown in Trois, Beary captures paper's organic, birch and coral-like properties, and most important, the imagination of anyone who writes or draws.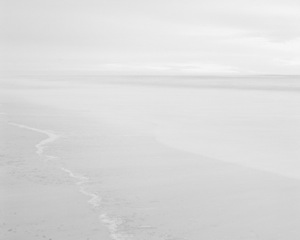 Sea Montauk #1 © Minney Lee
Second place winner Minny Lee offers black and white views of one stretch of the ocean at dawn and again at night fall with Sea Montauk #1 and Sea Montauk #3.  These timeless images of the where the sea meets the shore have a fairly wide depth of field, interpreted for the smaller photograph–seemingly from an aerial perspective. Third place winner Michael Callaghan entered five images which "serve as visual and linguistic tools to clear a zone for thinking", according to the artist.  Three–Uber, Lofoyo, and Red Blue Blue Red– are "photographs of 'material' appearing in magazines, newspapers, billboards and other media to which [he has]added, subtracted or modified certain elements, most often text".  


Red Blue Blue Red  © Mike Callaghan
Two honorable mention photographers include Helen Ellis whose two black and white Macy's Thanksgiving Day Parade images from  2004 and 2010 capture unassuming, mindful subjects in  documentary style; and Charles Rutan's images of effortlessly assembled collages–Summer's Passing, Salvation and Saturday Times, which combine strategically torn newspaper with earth, leaves or blades of grass.   Noticed in the main gallery were works with influences by Edward Weston were John Atchley's softly focused black and white Snowfield #2 and Snowfield #4, two of the most minimal, abstract works in the show.  Also, Passy Lynn's playful Abandon whose silhouetted figure dances into rows of light of the venetian blind variety.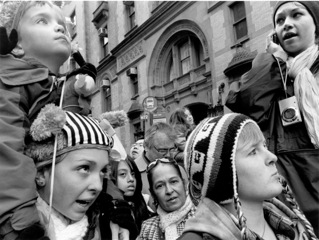 Macy's Thanksgiving Day Parade 2010 © Helen Ellis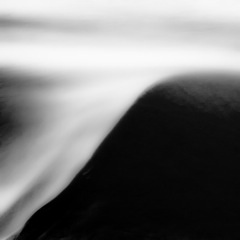 Snowfield #2 © John Atchley
While gallery members were ineligible to participate in the contest, 15 presented a variety of images in a corresponding esprit de corps.  Standouts include two archival inkjet prints by Mike Cullin whose relativism on "small" yielded images of trees cropped to the size of two, "forever" postage stamps with shadows front and center in works named Abstract Landscape #13 and Abstract Landscape #205.
Winners of the competition were rewarded when their images captured the felicity of expressing "small", a challenge which seemed effortless in the hands of the most mindful of the participants.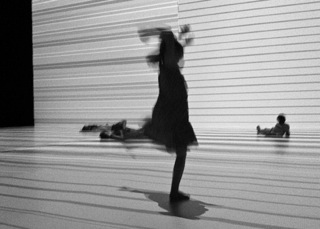 Abandon © Passy Lynn

Abstract Landscape #205 © Mike Cullen
All images courtesy Soho Photo Gallery; Small Works 2012 catalog images can be found at:
http://www.sohophoto.com/downloads/smallworks_winners_gallery2012.pdf