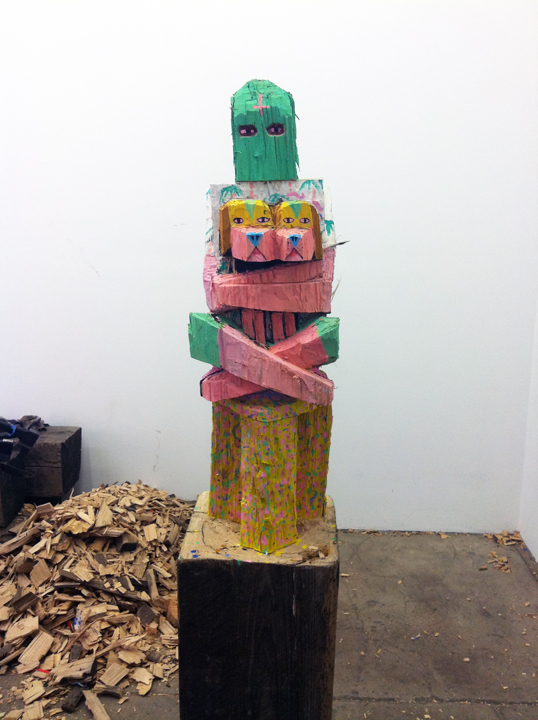 It is hard to be unique in Chelsea. Enter summertime at Kravets-Wehby Gallery. Making my gallery rounds in May, I wandered in and wondered: is this the output of a kooky old reclusive woman. To my delight it was Justin Samson. His previous New York shows at John Connelly Presents were superb and this show delivered as well. It is such a joy to admire someone's work and not know you're walking into view their latest. Samson's idiosyncratic works consumed the space with labor and passion for his craft blatantly visible. His "Multikulti" was one of the best shows I've seen this year. There were familiar shapes and colors that led you to historical references, yet his art is going in directions not visited by others. Speaking of directions not visited by others, these shows are on my best of 2011 list as well: Butt Johnson @ CRG Gallery, Nick van Woert @ Yvon Lambert, and David Adamo @ Untitled.
Enter man number five – Charlie Roberts. His current show at Kravets-Wehby Gallery runs until August 31st. Stumbling upon the opening, I was thrown off guard. I headed next door to Casey Kaplan where besides hundreds of sweaty people, there was a taco truck and mariachi band. Kravets-Wehby though had more a fiesta for your brain and less live Facebook. Charlie Roberts was speaking my language and I wanted to know more. What was this weird Paper-Rad-Native-American-thing? Judging a book by its cover, the press release left me disappointed. The words were too macho and felt unnecessary since the work is so strong. Another bad boy in the art world is not interesting, but I went back a 2nd and 3rd time to the show. The machismo faded to transparency. Mr. Roberts was there and the stance was more utopian. He made all the work in the gallery on his brief New York trip so visitors could witness his process. This consisted of chopping and painting tree trunks, morphing them into totemic zeitgeist wonders. Check him out working in the gallery.
Charlie Roberts lives in Oslo, Norway, although he was born in Kansas where he attended college. He also studied at the Emily Carr Institute of Art and Design in Vancouver, Canada. Icons of the Pacific Northwest have certainly entered Charlie's psyche, but his art is all his own unique vision.
Men and their wood seem to be an art theme this year. A resurrected Peter Nadin at Gavin Brown and the David Adamo I mentioned earlier are in the club. Although Roberts distances himself from the pack by engaging more with the object he is sculpting. His work is less sterile and more for the masses. Besides being able to watch the artist work, the final presentation is inviting. Charlie avoids the sometimes-distancing vibe of the white pedestal. The sculpture's lower sections are left untouched, except for the original squaring off of the tree trunk. This creates built in pedestals and a tension between the previous semi-natural state and the artist's intuitive hand. Once above the base and hundreds of wood chips left on the floor, you have the real action to digest. Different imagery rises up and high above your head in one sculpture. I hate reviews that overly describe the work, so I'm stopping here. Pop your head in and see "Magic Sticks" for yourself.