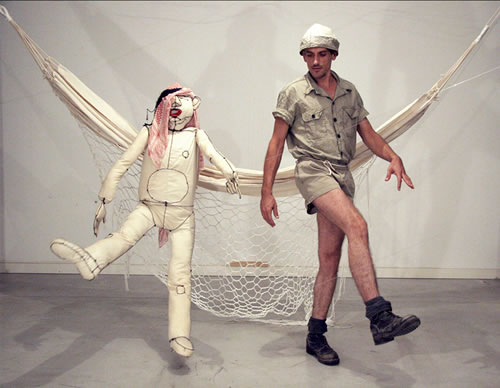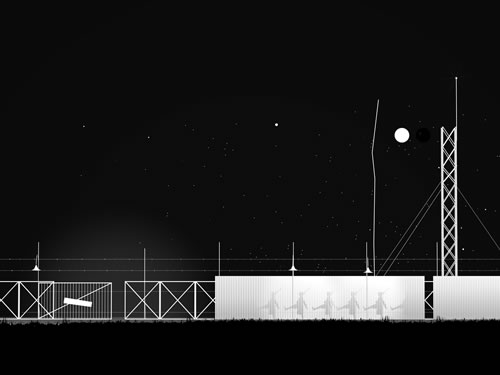 (above images courtesy Leslie Heller Workspace)
Lior Shvil is a video artist. He is also a sculptor, director, actor, was previously an architect, and served as a marine in the Israeli military. Being brought up speaking four languages, this diversity is also apparent in his artistic practices. I came across Lior's work at the Leslie Heller Workspace gallery in the Young Israelis group show. Captivated by a stark, clean, forced black and white print hanging on the wall, I immediately approached the gallerist about it. All of the images hanging on the wall are actually representations of all the videos that are in the Young Israelis show.
Seeing Lior's silhouetted images in this video as one continuous timeframe intensifies that initial still image. DessertLand presented within a single linear landscape immediately evokes hidden memories, feelings, emotions, and hushed controversies. Stark contrasts forces the viewer to focus on the subtleties of shapes, movements, shifting sceneries, sounds, and the sources of light that create stage-like shadows. Lior explains that this piece partly comes from direct experience, partly from illusions triggered from exhaustion, and partly from dreams. But in DessertLand all those lines have been blurred. From the moon to the moving searchlight, light seems to be the constant narrative throughout the animation. A highly romanticized vision almost conjuring Sufi or Tong poetics, Lior directs us through industrialized landscapes, deserted borders, a military base – all positioned against a heavy black sky. The undertone is slightly eerie, but with no surprises, so that the entire video would also work as an endless loop – like a lullaby.
Lior Shvil: liorshvil.com
Upcoming Shows at the Socrates Sculpture Park and The Sculpture Center