Gaia and Clown Soldier have just gotten back from the Living Walls Conference in Atlanta. They told me the event was amazing, hanging out and connecting with other street artists, and just having the freedom to create on the streets. Photos from a previous post here.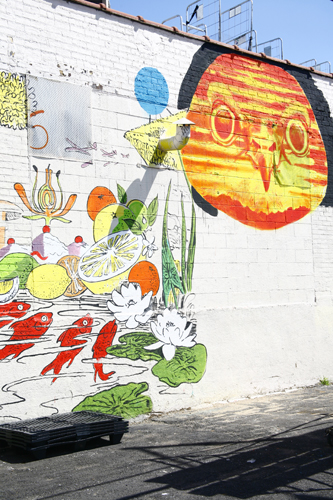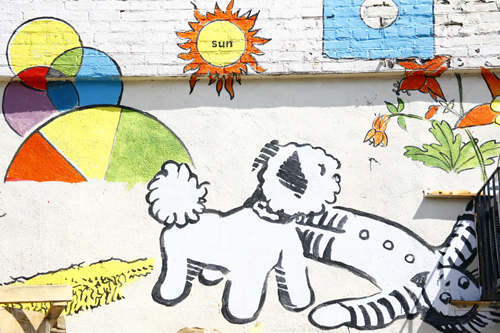 The street artist Clown Soldier had told me to visit this mural in Bushwick a while back. The painted mural on Waterbury and Meserole, a dusty industrial block, is a collaboration of Clown Soldier and Gaia. It was commissioned by the owners of that lovely hummus cafe – Yummus Hummus – across the street. Smaller pieces of both artists' works were spotted along the way, prelude to the "wall", almost heightening the anticipation to the larger mural. Approaching the wall, the colorful and whimsical style of Clown Soldier is instantly recognizable, crossing the line between pop art, collage, and street art. Although Clown Soldier is new to the graf scene, he's been progressively wheat-pasting and tagging it up. In contrast, Gaia's style is darker and metaphorical, but when juxtaposed together it creates a strikingly beautiful balance, and the amount of thought that went into it is apparent. It is still work in progress, with large empty areas to be filled by Rambo, and Gaia can only work on it while he visits New York. Based in Baltimore, Gaia has just returned from a month of independent study in Seoul, Korea. Over the course of one month, he consistently painted on the streets, creating these monumental works of art in unexpected spots. I envy those Seoul citizens who are able to enjoy them and maybe wondering who had landed and bombed the city with these prophetic creatures. Being a street artist anywhere isn't easy, especially in New York City where it's been cleaned up since less than a decade ago. But while the city has to deal with graffiti issues, on the other hand a lot of shop owners appreciates street art and readily commission those artists to muralize their shop surroundings.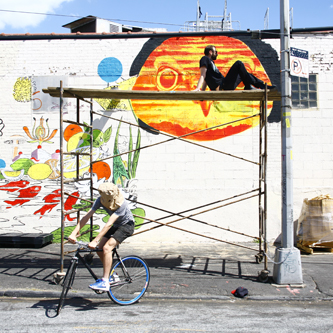 In December both artists, Gaia and Clown Soldier, are planning to head down to Miami for Art Basel, climbing and painting more walls.
Photos: 1, 3-5 (Carissa Pelleteri)  2 (Clown Soldier)